HOW LASER CLAY SHOOTING WORKS
If you have heard about Clay Pigeon Shooting or Trap Shooting, Laser Clay is exactly the same – only safer and greener! With global warming issues in mind, we should be more conscious about protecting our environment, hence our reason for clay pigeon shooting fun with LASER!
Laser Clay is played with authentic, but de-activated 12-bore shotguns that fire infrared beams at reflective and reusable clays. The system is sound simulated – on fire, a realistic shotgun 'bang' is produced and hits are indicated by the sound of breaking clay. There is a real time scoreboard displaying the points scored by each gun. Up to 5 players can be playing at one time!
TYPES OF SCORING SYSTEMS
There are several games that can be played, with points scored when targets are hit, giving an overall winner at the end of the competition
Skill Shoot: All 5 players can score. 2 points for a hit from the first round, 1 point for a hit with the second.
Rapid fire: Only the first 5 successful shots from all players count, with the 1st shot to hit scoring 5 points and the 5th to hit scoring 1 point.
Speed shoot: Only the 1st player to hit the target scores 2 points.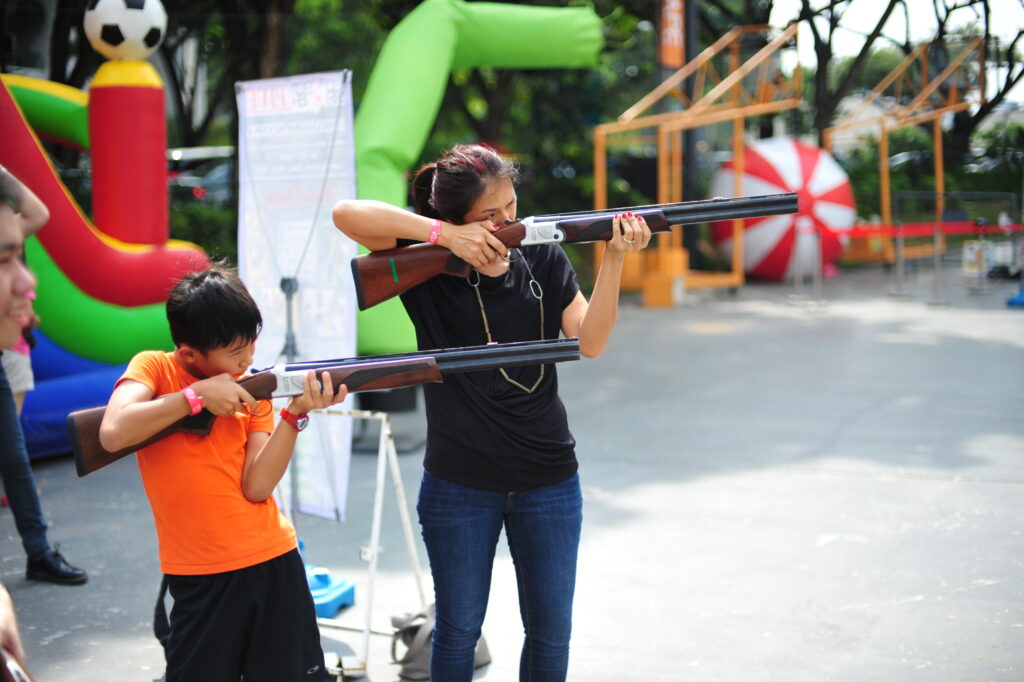 BENEFITS OF LASER CLAY SHOOTING (personal character training)
Like archery, or other shooting sport, Laser Clay Shooting requires patience, focus, composure and perseverance. It helps to build individual confidence and hand-eye coordination. It trains individuals to observe movement in the open and have the discipline to shoot only when need to (you only have 2 rounds per clay). In times when more than 1 clay is launched, it trains the shooters to plan which one to engage first, given the trajectory and speed of each clay. Laser Sport promotes quick thinking, patience, discipline, composure and many other traits for a marksman which can be very applicable to our day-to-day life.
NO AGE RESTRICTION
Laser Clay Shooting can be enjoyed by people of all ages as it is completely safe, even for young children from 10 years and up. It can be played just for fun, or as a serious competition. We have a range of shooting games that are designed to test the skills of both novice and experience shooters. This sport can be ideal for personal training development, birthday parties, corporate events and formal inter-organisation competitions.
THE GREENER WAY
Because the only things emitted from the guns are harmless infrared beams, laser clay is totally environmentally friendly. Even the sound produced is adjustable. Having so much of global warming and wastage everywhere in the world right now, Laser Clay Shooting is designed to deliver fun and excitement is the greenest way possible. No wastage of clays or firing of real rounds causing noise pollution.